Happy Holiday Party Inspiration
Get Ready for Holiday Parties
Happy Holidays for your Pets
Notions, Thoughts and Inspiration
Holidays are a time for reunions with family and friends! Gathering together at home is the happiest and coziest way to spend the holidays . Buy some wine and holiday treats to take home, to prepare in your delightful kitchen outfitted by Aosom.com!
Happy Holiday Party Inspiration

Pick a Theme and Dress up your Party!
Getting ready for the family Christmas party? Find great deals on Christmas trees and throw in a few holiday inflatables to make it even more festive . Oh! Don't forget to light up the night with cheerful holiday lights!
Keep warm and don't let the cold outside spoil the cheerful & warm atmosphere of your holidays. Electric fireplaces, ethanol fireplaces, electric heaters…All affordable options for a holiday on a budget.
Make sure you have enough comfortable chairs for all your guests! Stylish dining & accent chairs add color, conversation, and comfort to your party. Stylish bar stools and elegance and chic to any party.
Holiday Part Essentials - Feasting and Cozy Comfort
Kitchen islands provide handy additional storage, and counter space to prepare your holiday meals. You can also put chairs or stools around it to create extra dining space for crowded family meals.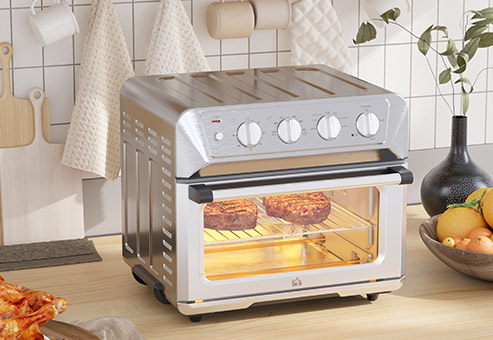 Kitchen appliances on a budget make preparing party food super easy and efficienct. Convenient air fryers, blenders, pressed roasters...Make your holiday meals fast & easy!
If your party is going late into the night, you may need to host overnight guests. Portable beds and sofa beds are excellent choices as they don't take up much space during the week.
More Holiday Party Essentials
Get Ready for Warm and Cheerful Holiday Parties

More Garden Party Essentials
Happy Holidays for your Pets, too!

Bring Home Holiday Joy for your Pets
Keep your dog fit and healthy with agility training and let them enjoy themselves as they run and jump. A great way to develop an amazing bond and instill discipline and confidence in your pet!
Cats love to climb! Cat trees, towers and condos give them the opportunity to run, jump and play, and they also love a high perch so they can keep on eye on "their" house….!
Habitats for small animals are places to rest as well as to play. Rabbit hutches with outdoor spaces, and hamster cages with plenty of toys will make your little pets happier and healthier.
Our pets are members of the family, and we always want to give them the best: don't miss out on all thsee great deals on our quality pet products!