Winter Camping Essentials
Holiday Deals on Winter Camping
Bring the Kids & Furry Friends
Notions, Thoughts and Inspiration
Have you ever seen the starry night sky in winter? It's clearer and sharper than the summer sky, due to the cooler air. Perhaps you don't want to go too far away from home this holiday season, so winter camping & fishing is a great option, with starry skies and uncrowded parks. Winter camping can provide a slice of peace and quiet, without the hustle and bustle of crowds or the buzzing of insects. Winter camping is a great way to get away from the "madding crowd" and enjoy a "silent night"!
Winter Camping Essentials
A sturdy tent, camping beds and warm sleeping bags are winter camping essentials!
Aosom tents are great for winter camping! Sturdy and stable, they stand up against the wind & cold! (Not intended for extreme winter conditions, so always check the forcast and dress appropriately as well)
Wet ground and dampness is no fun for winter camping. A camping bed elevates you above the cold and wet ground for a better and safer winter camping experience.
Don't overlook these handy camping accessorties! For example, a camping sink provides running water and a convenient place to wash up. Take a quick browse through our great camping accessories for a better trip!
Winter Camping Cooking Essentials
Family meal time often one of the best parts of a good camping trip. A quality portable folding table can make preparing and eating meals much easier and more convenient.
If you have a large group, portable camping chairs make for a comfortable, convivial camp. Easy to carry, comfy to sit on. Our affordable, quality portable camping chairs are available in multi- and single-seat options.
Enjoy cold drinks and snacks whatever the weather. Whether you want them for road trips or winter camping, our portable fridges and coolers are ideal for keeping food and drinks preserved until you need them!
Even More Winter Camping Essentials
Holiday Deals on Winter Camping Accessories
Holiday Outdoor Essentials
Bring the Kids! Bring your Furry Friends!
Strollers and Trailers for Kids and Pets!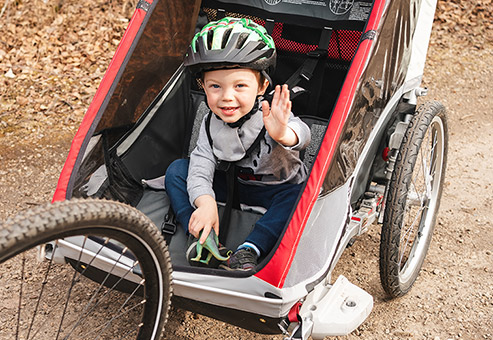 Strollers and Bike Trailers are a safe & convenient way to take the kiddos on outdoor adventures! Our trailers and strollers have multiple restraint systems for maximum fun AND safety!
Give your pet, who also craves outdoor adventures, a new travel trailer so you can stay together on short jaunts outdoors!
For winter bike camping you'll need plenty of space for groceries and bulky camping gear. A detachable and foldable cargo trailer is the way to go!
Cat and dog carriers are also great for those travelling with furry friends in their car. Don't forget trailer and car accessories to help you secure your camping gear!