Your
Aosom Story
Since our humble beginnings, Aosom has grown to where we deliver thousands of products every week. We treasure our story and love that we get to be apart of yours. Each package delivered from us to you is a new beginning, and we are excited to reshare some of our favorites stories that you've shared with us.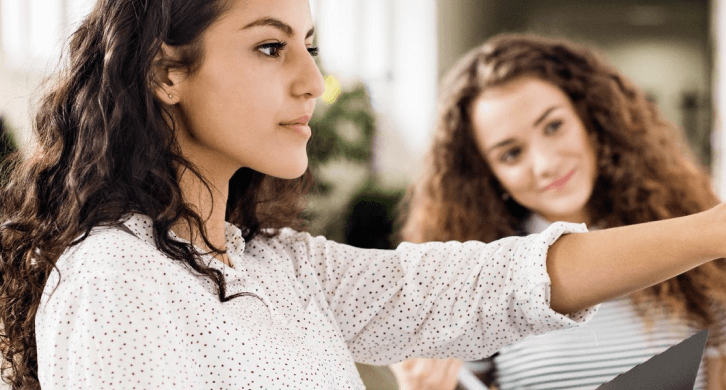 YourAosomStory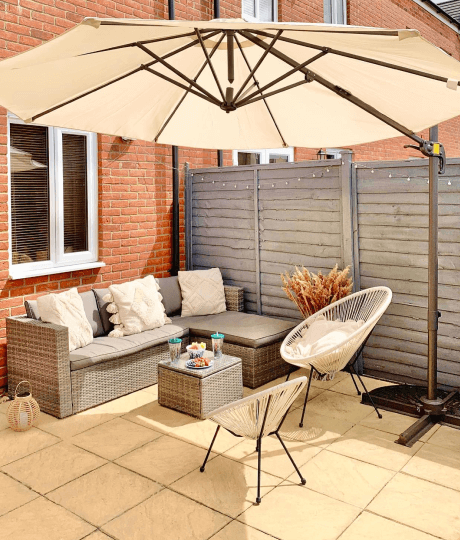 This amazing parasol
We have had a lovely and sunny day today.
What a lovely surprise as we were expecting rain.

This amazing parasol kept us out of the sun while we had lunch in the garden. Erin loved it so much.

360 degree rotation means we will always keep in the shade. We can also adjust the tilt position of it for when the sun gets low in the evenings. The weather resistant canopy will protect us from the elements too. Love it .

Lets hope for more sunny days in the garden this year. Did you have a lovely sunny day today?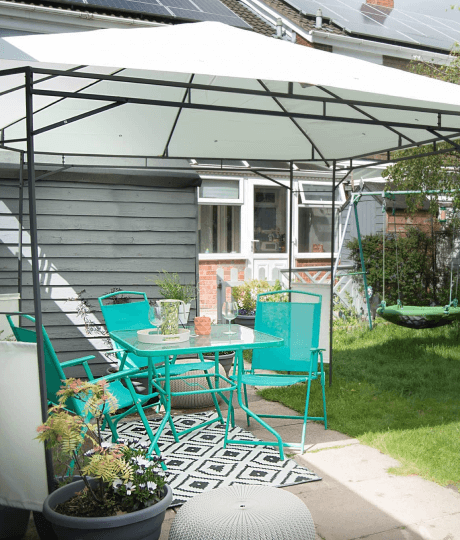 Summertime
We're ready...
Well I'm not sure what's happened to the sunshine, its definitely feeling like it's never going to stop raining , but it's a little dryer today. So we've been in the garden getting it ready for summer. Having a south facing garden we're lucky to have the sun all day long, when it does arrive. The lovely guys from aosom have sent us this lovely metal gazibo, so we can enjoy the garden with a little shade. They have such a lovely selection of outdoor furniture and accessories, as well has other items for your home and kids.
Can't wait to spend some summer days and nights sat under this enjoying a glass of wine or 2.
Are you ready for summer?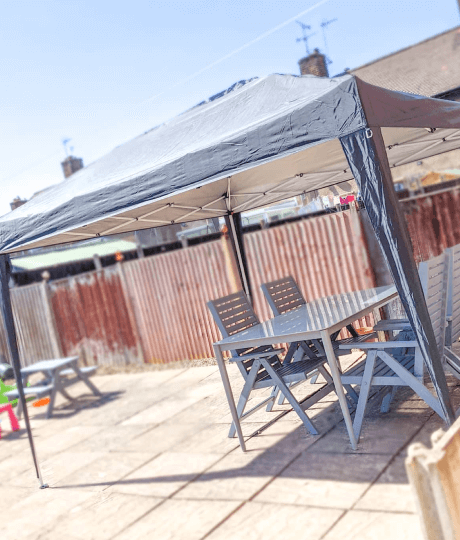 Lovely gazebo
Isn't it lovely to have the sunshine back! Once it went a bit dull last week I thought that was summer over but I'm so glad it's reappeared.

aosom gifted us this lovely gazebo and it's perfect for giving us some shade whilst the suns out!

They have an amazing collection of garden furniture!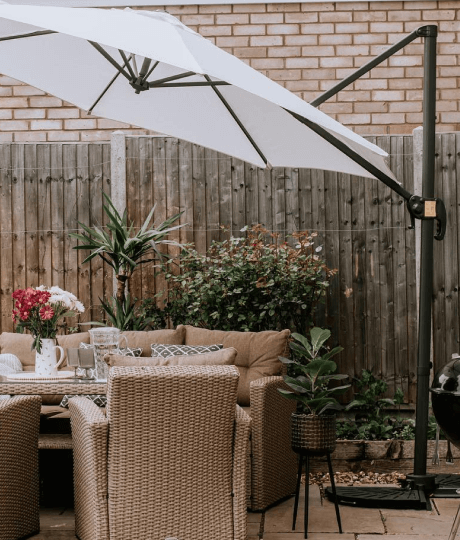 Summertime
We've spent the weekend sorting out our garden and getting it summer ready. We have kindly been sent this amazing massive sun parasol from aosom it's perfect for this heat wave we are meant to have soon.

It's really easy to set up and gives plenty of shade, it features 360 rotation so you can always be shaded.

Make sure you check out the website for all things garden this summer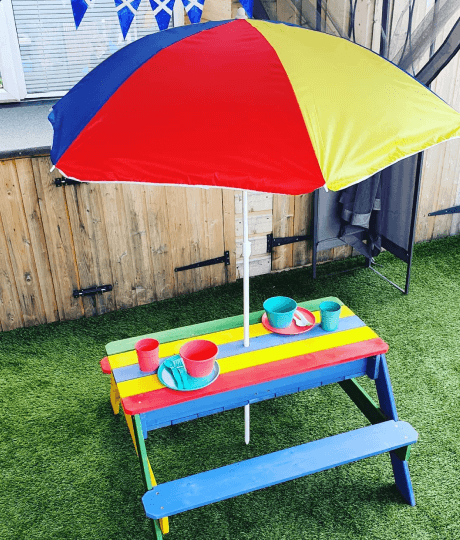 Love a 2in1
Who doesn't love a 2in1?

Our new picnic table / bench is also an activity table kindly gifted from aosom
With the the sun parasol and quick change from table to activities, this is the perfect peice of children's garden furniture.

I love the bright colours and the fact the activity boxes can come out to be washed and re-filled.
Willows new favourite spot in the garden.

We've nearly got our garden refreshed for summer just need some more sun now .

I heard it may be making an appearance this weekend, let's all cross our fingers cos I can't take much more rain!

Swing chair gifted from aosom.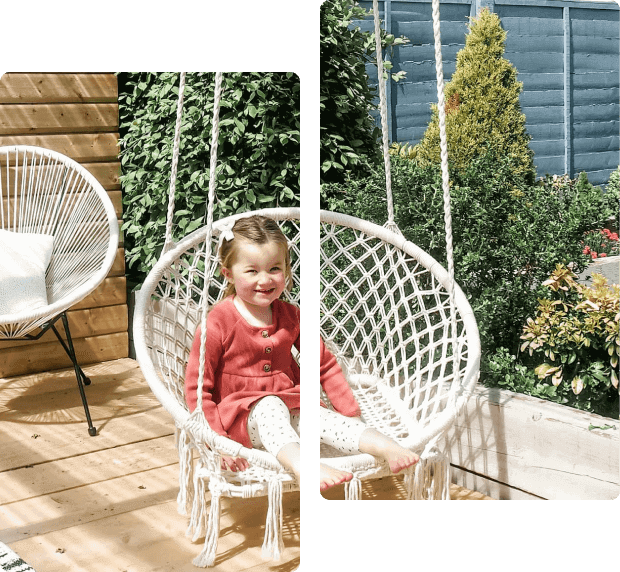 #Willows new favourite spot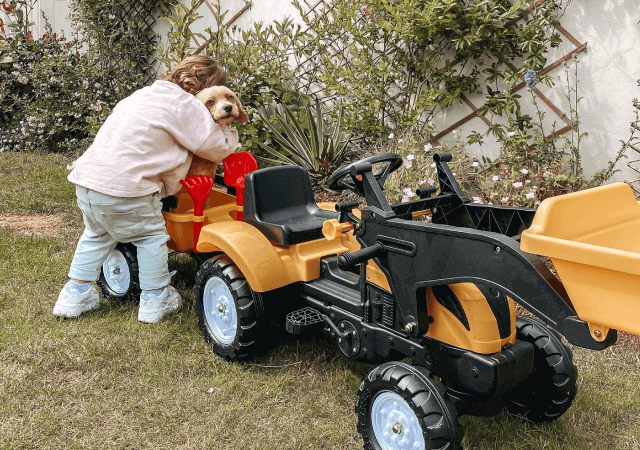 Summer toy
Is there anything better than the look on your child's face when you first give them something they absolutely love??

We gave Kit this ride-on tractor from aosom at the weekend and it's safe to say he's been obsessed with it ever since! We get asked for 'tractor' all day and he loves being busy with it, picking up stones and dropping them with the tipper. I love that it comes with the back trailer too - Kit has been putting his toys (and the dog!) in there and towing them along. Such a perfect summer toy for any toddler that loves tractors.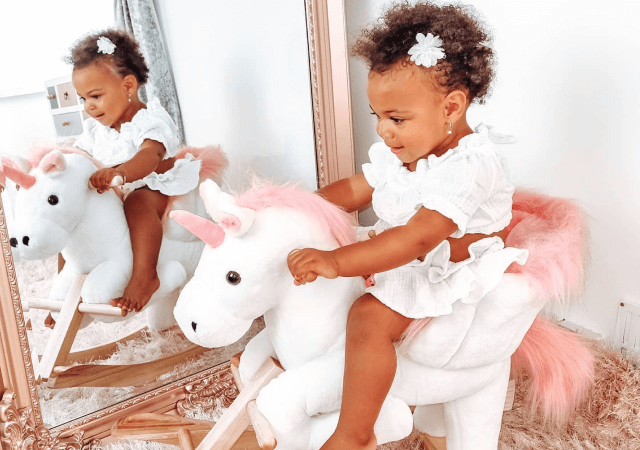 Unicorn Rocking Horse
My heart is honestly bursting with happiness seeing Jada on this Unicor rocking horse that was kindly sent to her from aosom

Jada is not really a big lover of toys for her age so is never really too interested in anything, but she absolutely loves this and is on it all the time and lives to use it in front of the mirror so she can see herself, and it also has a button on the ear to play a lovely lullaby.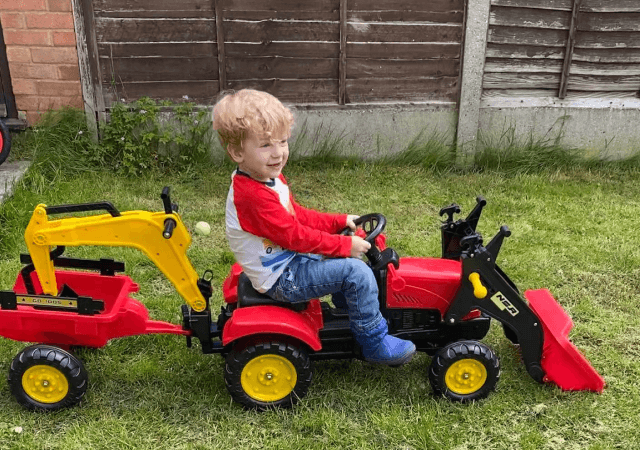 Pedal excavator
Anyone that knows A or has followed us for a while would know this little one absolutely loves diggers and all the other construction vehicles, and now he has his own ride on one thanks to aosom

This Ride on pedal excavator comes with the front scoop and the detachable back scoop too, which are so easy for him to operate himself and he has been loving digging in the mud and putting it all into the trailer (which can also easily be detached). He couldn't be happier riding around on his new toy.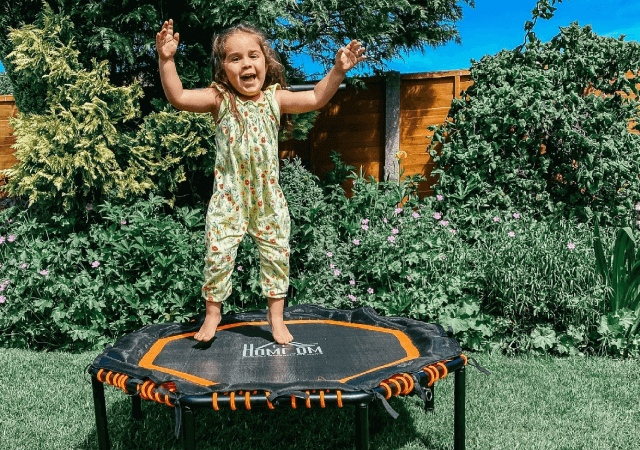 Fitness trampoline
This weather has meant that we've been able to spend so much time in the garden during half term. Sienna was so excited to have a go on mummy's fitness trampoline from aosom.

This resistance trampoline is used by both of us daily and you can certainly feel it in your legs immediately.

What's great about this trampoline is that you can fold it up when you're not using it so that it doesn't take up lots of space.
The story of the indoor sofa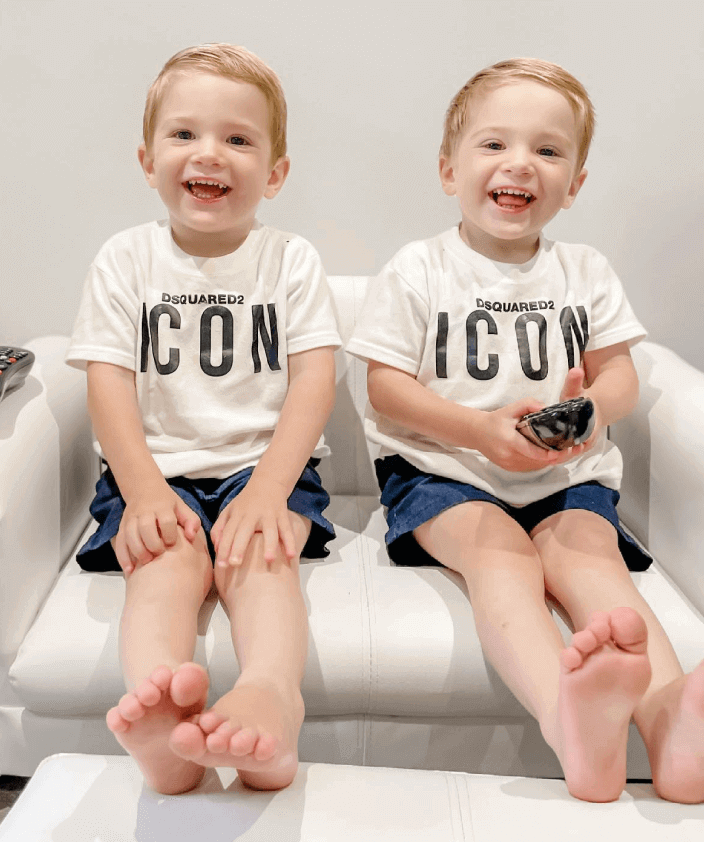 The boys absolutely love their new sofa from aosom , it's the perfect size for them and leather so super easy to wipe down!

Swipe up link added to story! Would make a lovely gift abs it's very reasonably priced!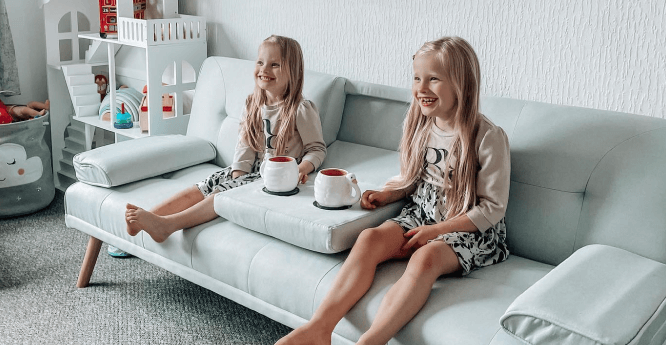 How lush is this gorgeous sofa for the children's play room? It pulls out into a bed too for when nanny comes to stay with us and even has a little drinks holder space that pulls out >>>>> Swipe to see how easy it is to turn into a bed >>>>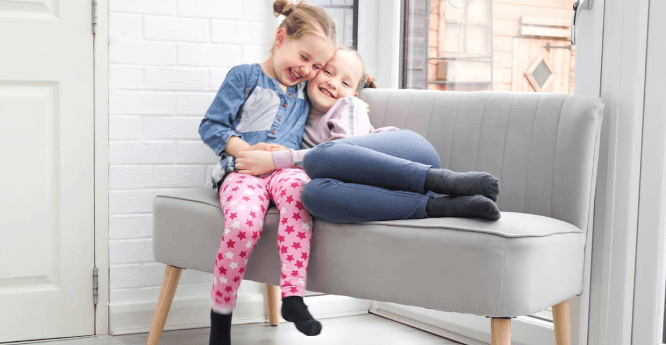 D
diary_of_the_denton_dolls
Wishing you a week ahead as happy as this picture!

We're loving spending time in our new opened up kitchen/conservatory space. It's so bright and airy.
Why Customers Love Aosom
The product was perfect and was delivered quickly! Love it!
from US site
Love the new tent. Easy up and down "America"
mrhocke***@charter.net
from US site
The pergola was very easy to put together. My husband and I did it. We love it
from US site
Love our new chicken coop!! Excellent service and follow up.
from US site
Everything arrived as described. My dog is using it. Thank you
papa.mem***@gmail.com
from US site
Service was excellent. Merchandise was also a bargain. Very satisfied
from US site
That's a great stroller and trailer. So easy to set up it even for young women as me. Enjoyed riding.
Kalono***@mail.ru
from US site
I ordered a metal arbor with gate and planters. So happy with my purchase. It arrived quickly and was easy to assemble. Looks awesome in my yard. Thank you
from US site
Encomenda entregue dentro do prazo. Produto com bastante qualidade. Serviço 5 estrelas. Adorei.
nuno.futsa***@gmail.com
from US site
Fantastic service, item was delivered in record time! Ordered bank holiday Sunday and arrived Tuesday morning: cannot fault it!
from US site
Fantastic service, item was delivered in record time! Ordered bank holiday Sunday and arrived Tuesday morning: cannot fault it!
from US site
Was a little worried that I could not immediately contact you with my problem but I had no need for concern
from UK site
Suggerito da un amico sono rimasto molto sorpreso dalla rapidità e dalla qualità dell'acquisto. Grazie
Roberto.or***@outlook.it
from IT site
Recebi todas as encomendas como prometido. O serviçoxe entrega pode melhorar. Voltarei a comprar e recomendar aos amigos o site.
novaissouza***@hotmail.com
from PT site
Toller Internetshop Schnelle Lieferung Und Top Zufriedenheit bei Problemen von mir gibt es dafür volle Punktzahl
piapa***@gmail.com
from DE site